Throughout the General Surgery training program each resident spends 1/2 day per week in a direct outpatient care setting, learning office management skills, out-patient diagnostic skills, and pre/post operative management.
The following is the schedule for the Western Reserve Hospital General Surgery program: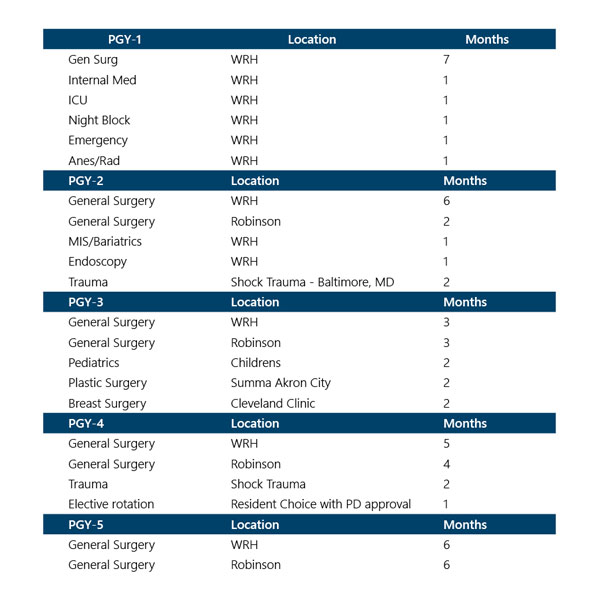 First Year
During his/her first year, the resident will receive most surgical education outside the operating room along with operating room participation. The main emphasis is on pre-operative diagnosis and post-operative care to be correlated with intra-operative anatomy and surgical findings. The special services of General Medicine/Nuclear Medicine and Pathology/Radiology, Anesthesiology/Recovery Room/Pulmonary Medicine will be highlighted. During these services, there will be limited surgical responsibilities.
General Medicine/Nuclear Medicine
The main focus for this service will be on pre-operative evaluation of patients (consultations) as to surgical risk and pre-operative and post-operative medical orders. Residents will evaluate patients in regards to body systems and functioning, along with interpretation of diagnostic testing to aid in diagnosis. During this year special emphasis is placed upon endoscopy, laboratory evaluation, nutritional assessment, including enteral and parenteral hyper-alimentation, and management of the critical patient in ICU/CCU.
Pathology/Radiology
Each resident will examine gross surgical specimens following their removal, including microscopic examination of pathological and normal tissue. Residents must participate in autopsies. Special radiological procedures are taught involving an understanding of ultrasonography and CT scanning. Residents must correlate patient examinations with radiology findings, including discussion with attending Radiologists. By the end of year 1, residents must be able to evaluate a pre-operative chest film and read all x-ray films prior to surgery. Specific reading assignments and indications for procedures will be covered. Residents are exposed to radiation oncology, including a linear accelerator and betatron.
Anesthesiology/Recovery Room
The resident will learn pre-op anesthetic evaluation as well as pre-op anesthetic orders. He/she will learn induction, intubation, and spinal anesthesia, as well as examine all surgical patients, pre- and post-operatively. The resident will evaluate anesthesia risk (R/R both surgical and anesthetic management of unconscious patient), including emphasis on anaphylactic reaction, local anesthesia, and epidural anesthesia.
Second Year
During the residents second year, considerable time will be spent in the operating room to learn assisting, surgical principles, surgical techniques, and performing minor surgeries. Ten months will be spent with general surgeons with adequate time in vascular, plastics, urology, cardiothoracic, head and neck surgery, and endoscopic procedures. Two months are spent at Akron City Hospital in Trauma Surgery and in the Surgical ICU.
Third Year
The resident's main emphasis during year three is in surgical assisting and performing surgery under supervision. Six months will be spent in general surgical rotation. The resident will be given considerable responsibility in pre- and post-operative management. Rotations are to include 2 months of pediatrics and burn care at Akron Children's Hospital and three months at Robinson Memorial Hospital, for focused training in hepato-biliary, colorectal, and breast disease. There is a 1 month surgical selective offered during year 3 to allow for rotations in the residents' area of interest or desired fellowship training.
Fourth Year
The fourth year is spent performing major surgery under supervision. The resident will be assigned cases for total surgical care based on level of competency. A period of eight months is spent in general surgery and the surgical subspecialties. Three months are spent at Robinson Memorial Hospital for advanced care in abdominal and colorectal disease management. A one month surgical selective is offered during this year for interested areas of training. During year 4, each resident will continue to expand his/her knowledge base in the same areas encountered during the first three years of residency. He/she will also assume additional responsibilities of surgical boarding and instructing the junior residents and medical students in the surgical care of patients.
Fifth Year
During this year, each resident is taught advanced surgical skills and assumes a majority of the care of patients, with appropriate attending physician supervision. The senior resident spends the entire training year at Western Reserve Hospital, with preference given to his/her participation in selected operative interventions. These experiences are based on the needs of the resident, in areas where he/she feels that exposure will help prepare him/her for private practice or fellowship. A close working relationship is developed between attending physician and resident, with dependence on each for competent patient care and a quality educational experience.
Didactics
Throughout each year, there are numerous didactic activities which are required. There are weekly board review in which residents from multiple Akron area training programs review a selected surgical text. The text reviewed, as well as the accompanying board review is chosen on a yearly basis, and the session is supervised by multiple surgical attending physician faculty. All residents must participate in the In-Service Exam yearly.
All Western Reserve Hospital residents must attend both a monthly tumor board session and mortality review conference. These review any surgical oncologic cases as well as any pre-operative diagnostic challenges for current cases. There is attendance by the primary care physician, as well as all disciplines involved in the patient care plan including radiology, oncology, radiation oncology, pathology, and surgery.
There is also noon lecture, grand rounds, OMM, and morning report lectures each Tuesday through Thursday on a rotating basis.