UPDATED – 5/18/2020*
Effective June 1, 2020 the Experiential Learning Program will be reinstated with limitations.  Experiences meeting the criteria listed below will be evaluated for approval.    
Before applying, consider if your request meets the following criteria:
This shadowing/rotation is required for graduation of a clinical or professional degree program.
The sponsoring college/university is allowing shadowing/rotation and can provide written confirmation.
The college/university has a current affiliation agreement on file with our facility. 
All applications not meeting the above criteria will be declined at this time in an effort to protect our patients from unnecessary exposures and protect the students as well.  
In addition to the criteria, students and their applicable program coordinators must sign the COVID Safe Care Pledge in order to be approved for their experience.
All other general shadowing and high school requirement experiences are still suspended until further notice.  This program will continue to be re-evaluated as new information is available regarding the state of COVID-19 in Ohio.  
Western Reserve Hospital offers a variety of learning opportunities for those pursuing an experience in the healthcare industry.  If you are interested in an experience for career exposure or academic credit, please complete the required forms below and return as instructed.
For information regarding the types of learning experiences Western Reserve Hospital offers, see the table below.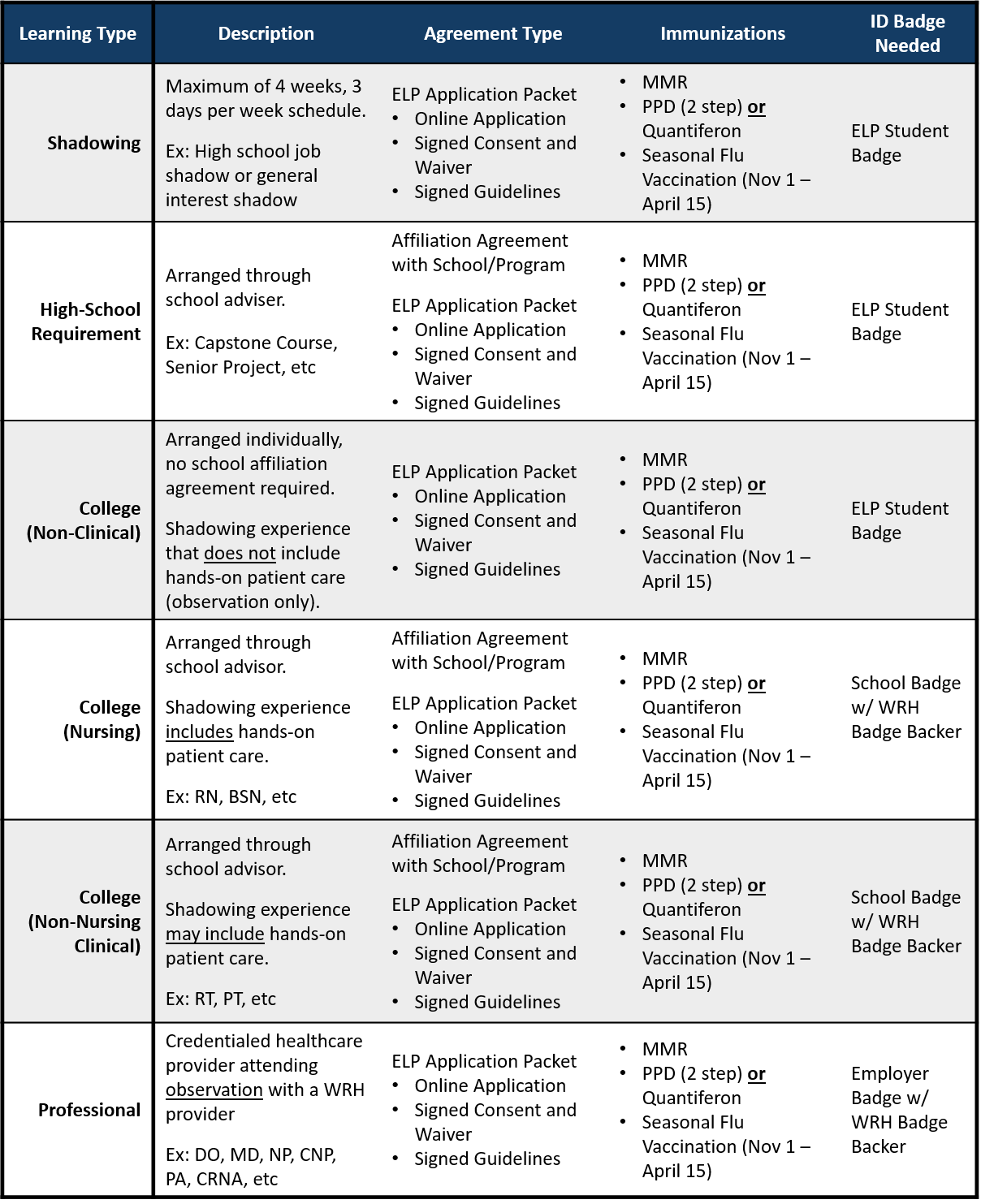 Program Guidelines And Waiver
Experiential Learning Program Guidelines
Experiential Learning Program Guidelines - Signature Page
Experiential Learning Consent and Waiver - Signature Page
COVID Safe Care Pledge - Required beginning June 1, 2020
Required Immunizations
Proof of the following immunizations is required for ALL learning experiences.
MMR
Tuberculosis test (within 12 calendar months of experience start date)

PPD (2-step skin test), OR
Quantiferon (blood draw) 

Seasonal Flu Vaccination (if experience falls between November 1st – April 15th)
Once you have read, understood, and signed the above documents, save the signature pages, and fill out the application at the link below. 
In order for your application form to be processed, you must attach the Guidelines Signature Page and the Consent/Waiver Signature Page.
If you do not yet have proof of immunizations, submit them to Explearning@westernreservehospital.org as soon as you are able.   These are required to move forward with the application process.
Application Form
EXPERIENTIAL LEARNING APPLICATION FORM
*A confirmation email will be sent upon receipt of your application.  However, PLEASE NOTE, THE APPROVAL PROCESS MAY TAKE UP TO 30 BUSINESS DAYS.  You will be notified via email when your application has been approved and you will then be contacted for scheduling within 5 business days.
*Western Reserve Hospital reserves the right to decline Experiential Learning Applications based on specific qualifications, including but not limited to current availability and staffing within the organization.
For questions, please contact Explearning@westernreservehospital.org or you may call 330-971-7061.