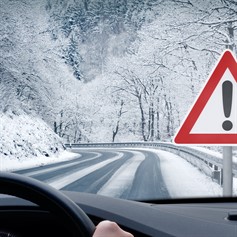 The holidays are a time to celebrate, give thanks and reflect. Give the gift of health and safety by following these holiday tips:
Never use lighted candles near trees, boughs, curtains or any flammable item. With a natural tree, cut about 2 inches off the trunk and place the tree in a waterproof sturdy stand. Keep the tree well-watered so it does not dry out quickly. Dry branches can catch fire from heat of lightbulbs. If you use an artificial tree, choose one that is tested and labeled fire resistant. Use no more than 3 light sets on one extension cord. Use a proper step stool or ladder for putting up decorations. Don't stand on chairs or other furniture.
Wash your hands often. Keeping your hands clean is one of the most important steps to avoid illness and spreading germs to others. Wash your hands with soap and clean running water for at least 20 seconds. You may use an alcohol-based hand sanitizer and let the product dry on skin.
Travel safely. Don't drink and drive or let someone else drink and drive. Wear your seat belt. Always buckle your child in approved safety seat according to height and weight. Get vaccinations if traveling out of the country.
Make sure you wear several layers of loose-fitting, tightly woven clothing for the cold weather. Cold temperatures can cause serious health issues for children, elderly and pets.
As you are preparing the holiday meals, make sure you wash your hands and counter tops frequently. Avoid cross contamination of surfaces with raw meat, poultry, seafood and eggs with ready-to-eat foods and eating surfaces. Do not leave perishable foods out longer than 2 hours.
Keep a watchful eye on young children with potentially dangerous toys, foods, drinks and choking hazards (like coins and hard candy). Remember, if the object can fit down the roll of a toilet paper holder, it can slide down a child's airway.
Enjoy the holidays the healthy way. Choose more vegetables and fruits.  Find fun ways to stay active, such as dancing to your favorite holiday music. Be active at least 2 1/2 hours per week. Children and teens should be active for at least 1 hour per day.
Manage stress by sticking to a financial and time budget. Limit overspending.  Balance work, home and play. Get enough sleep. Don't overcommit to holiday gatherings.