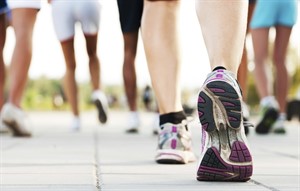 Do you have difficulty running due to knee or calf pain?  Does your hip or back pain prevent you from training for your next race? If so, a video running analysis is perfect for you!  Running is an activity that requires repetitive use of many muscles and joints in your body. Asymmetries can cause abnormal stress and strain on your body and create pain which may prevent you from running or from meeting your potential as a runner.   Running is a single leg activity and therefore requires many different structures to be balanced and work together. If your muscles are tight, weak or even over stretched, you may develop abnormal running patterns which may create pain, decreased performance or injury over time.  Although it is likely that the therapist can see "something is not right" when watching you run, finding faults in someone's running pattern is much more likely with a video that can be broken down and analyzed in slow motion.  Even if you are not currently injured, a running video analysis is a great way to help you become a more efficient runner.
A running gait analysis will consist of a brief warm up on a treadmill followed by a 1 minute video from the side, front, and back.  The video will be reviewed by a Licensed Physical Therapist to look for potential factors that might lead to or be causing your pain. Angles will be measured and compared to normative data from current research. Suggestions will be made for corrective or preventive exercises to help you run more efficiently and overall, become a better runner. You will get a copy of your video electronically.
If you think you will benefit from a running gait analysis or to make an appointment, please call our Physical Therapy Department at the Natatorium, Rehab at the Nat, at (330)926-0384. You will need a Physical Therapy prescription from your physician.