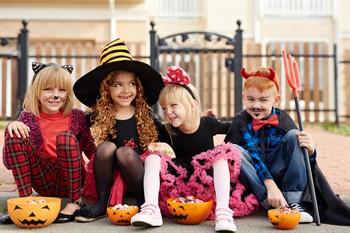 Just a few reminders to keep your little goblins safe during the much anticipated childhood event of "Trick or Treat":
1. When selecting a costume, make sure it is the correct size and length to prevent any falls or trips. Plan costumes that are bright and reflective. Make sure shoes fit well. Add reflective tape striping to costumes and trick or treat bags for improved visibility. Make sure costumes are of nonflammable material. Masks can block vision, consider non toxic make up. Pretest make up on a small patch of skin to make sure there will be no reactions for the big day. Make sure accessories such as a sword or stick are not sharp, so if a young child falls, they will not get injured. Glow sticks are a fun way to improve visibility, but remember the liquid inside could be hazardous if ingested.
2. Walk safely on sidewalks and do not cut across yards. If no sidewalk is available, walk far away from the road facing traffic. Remember motorists may have trouble seeing the Trick or Treaters. Don't assume because one car stopped, the other cars will. Enter and exit driveways and alleys slowly. Teach your child never to dart out into the street or cross between parked cars. Children under 12 should have adult supervision.
3. Make sure your porch or doorway is free of clutter so a child cannot trip when visiting your home. Remove toys, garden hoses, yard tools, etc. Restrain pets so they cannot jump on a child or bite them. Make sure your pathway is well light and free of slippery leaves (or snow!). Make sure candle lit pumpkins are on a sturdy table and away from flammable objects.
4. Review with children how to call 9-1-1 if they become separated, lost or if they ever have an emergency. Review with children their address and contact phone number. A parent could place this information inside the costume to facilitate an easier relocation of a lost child.